Naam Sacred Scents is the first of its kind training that combines the wisdom of Naam Yoga Therapies with the power of Sacred Scents Aromatherapy to heal, harmonize and raise the consciousness of those who learn this timeless science. Led by Naam Trainers, Lemia Astarabadi and Joshua Bowser, this inaugural program is sure to delight!
In this 30-hour course, you will:
Learn how to use several different plant essences on the body to help harmonize disturbances
Practice anointing using many different systems that activate one's inner healing capacity
Learn different perspectives on how the body is mapped and the spiritual and emotional significance of a variety of ailments
Understand basic aromatherapy truths as well as myths that we will debunk over the weekend
Spend time heightening your intuitive facilities with the plant teachers in order to best serve yourself and your clients
Come and join us for a powerful and transformational journey deep into the heart of nature and the laws that govern it. No previous experience required.
Course Hours and Times (Subject to change)
Thursday 3/26: 6-9pm Dinner and Anointing
Friday - Sunday 9am - 6pm
Investment: $750
Your Instructor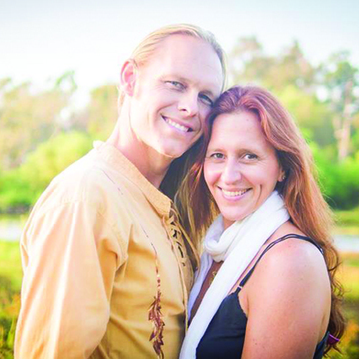 Sacred Scents Aromatherapy was founded by Joshua Bowser and Lemia Astarabadi on 11/11/2019 in San Clemente, California. Out of a need to sustainably source our own medicine, we searched for farmers and suppliers that believed in the high-integrity practices that we stood for, and we hand curated our own line based on what we resonated with and what resonated with us. By hand-pouring each bottle, making our own labels, and infusing sacred sound vibration into every essential oil, the plant medicine we share is treated with Love and care from nature, to our hearts and hands, to you.
California natives, Lemia and Joshua are a joyful married couple who Love learning and sharing the gifts of ancient wisdom from eastern and western traditions, bringing unity consciousness to their classes, concerts, workshops, trainings, and retreats. Through their devotional practice of Naam Yoga, the yoga of universal ONEness and Love through breath, sacred sound, movement, and Divine Spiritual Wisdom, Lemia and Joshua offer a dynamic and playful setting for transformationa l growth. They bring their passion and Love for the plants and trees into every environment through the ancient practice of anointing. Lemia and Joshua are grateful for every breath and look forward to connecting with you on a heart level soon!
Frequently Asked Questions
When does the course start and finish?
The course starts on March 26, which is evening only - for Dinner and Annointing of Oils. Friday, Saturday and Sunday are all 9pm - 6pm
Is Dr. Levry teaching in this Training?
Dr. Levry is not officially scheduled to teach in this training. He mayl teach the Masterclass on Wednesday evening.
Is the Masterclass on March 24th, 2020 included in the tuition?
It is NOT included as part of the course, but participants can attend with a discount (membership rate)
Is there another training schedule for 2020?
This is a pilot program we are not sure of the future program dates at this time.
What should I bring with me?
Bring a notebook, hot water bottle (to drink hot water) snacks, and a positive attitude. It can be helpful to dress in layers.